ArcGIS Editor for OSM, 10.3.x Desktop
对于好多地图爱好者,由于保(众)密(所)严(周)格(知),获取高精度的数据不是个容易事,幸亏有了可爱的 OpenStreetMap 。
ArcGIS Editor for OpenStreetMap 是一个免费开源的 ArcGIS Desktop 插件。上个月Esri官网提供可用于Desktop 10.3 的最新版本插件。
下载页面:ArcGIS Editor for OSM, 10.3.x Desktop
相关资源自取:点这里
下载之后,有32位和64位两个安装包,如果你安装了Desktop的64位后台GP补丁,就把64位的插件程序也安装上。
ArcToolbox中多了好多工具……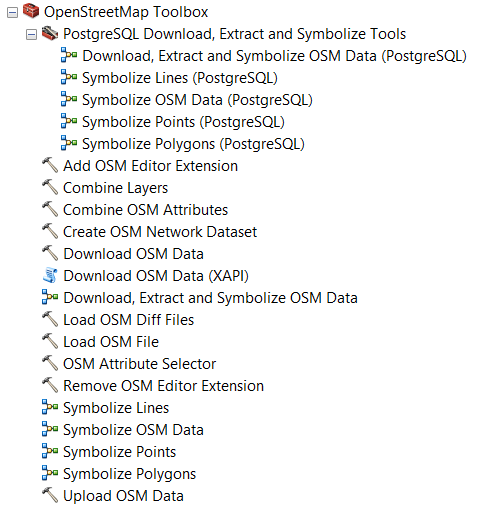 这里我就推荐两个最常用的工具。




Download OSM Data
下载的范围,可以通过手工填写坐标指定,也可以根据ArcMap现有的图层范围进行指定,这个方便又好用。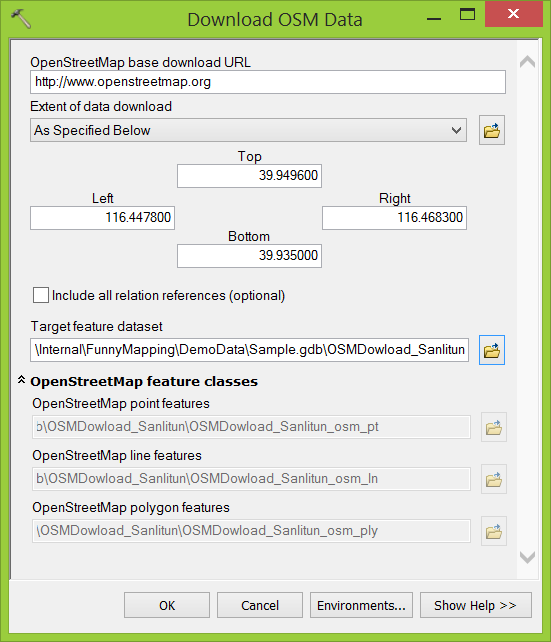 Load OSM Data
如果你已经从 OpenStreetMap 下载了 *.osm 数据文件,那就用这个工具导入 GDB 即可。简单到没什么可说的,请看图。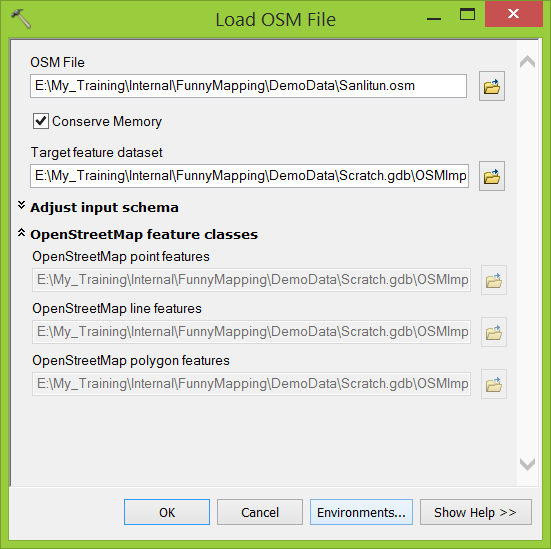 有个关键问题,注意:
How much of the OSM data can I download?

The ArcGIS Editor for OpenStreetMap uses the OpenStreetMap API, which limits downloads to an area of 0.5 by 0.5 degrees or 50,000 nodes, whichever is reached first. This is usually more than enough to fill an area for editing.
Author: Xiaoyan Mu
Copyright Declaration: The author owns the copyright, please indicate the source reproduced.
Share