导入3D模型至CityEngine
我们可以将2D矢量数据、3D模型格式导入到CityEngine 中使用,前者一般作为CityEngine shape 来使用,后者作为模型来使用。
OBJ,DAE,FBX这几种模型格式导入时可以作为两种角色来使用,shape 或 static model。这是由导入窗口中的 Import as static model 设置控制的。
Import as static model

When checked, the file will be imported 'as is' and will not be modifiable by cga rules.

Shapes—Serve as a base for CGA generation. A typical example is footprint data.
Static models—Can be scaled, rotated, and translated after import but cannot be processed further with CGA.
通过如上说明,我们可以清晰的了解到把模型转为shape或Static Model的差异。 一般实际应用中,我们会把当作"素材"使用的模型小件作为static model用;而把表示基础结构的模型作为shape来使用。
static model导入之后,仍然可以再转换为shape,操作:菜单栏 Shapes->Convert Models to Shapes。成为shapes 之后,就可以通过cga对这个模型的继续进行改造了。
在如下示例图中了解: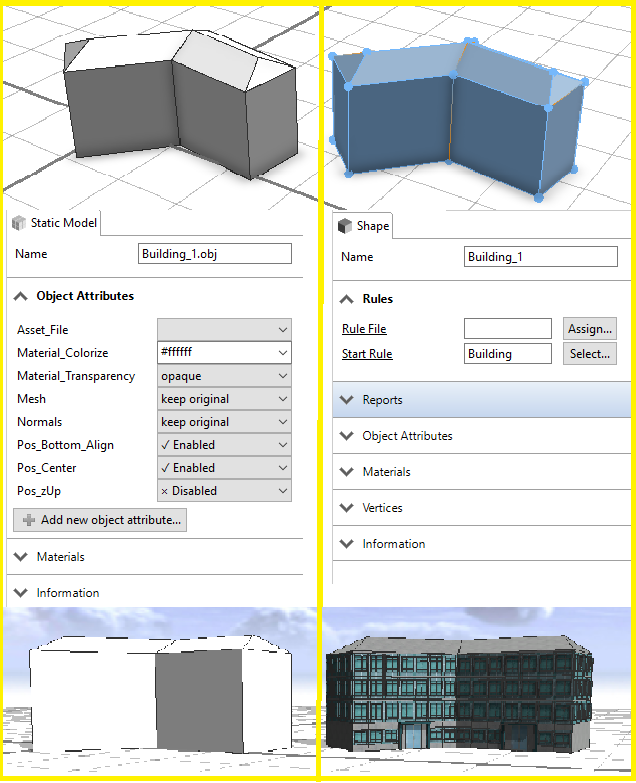 Author: Xiaoyan Mu
Copyright Declaration: The author owns the copyright, please indicate the source reproduced.
Share